Serve A Year Through AmeriCorps
What Is Public Health AmeriCorps?
Public Health AmeriCorps is a new groundbreaking partnership between AmeriCorps and the Center for Disease Control and Prevention with the goal of addressing the impact of chronic illness, mental health or substance abuse and improving health equity. We are honored to be one of the 12 recipients across the nation chosen to help address community needs.
We are now honored with the task of recruiting a number of AmeriCorps members who will help us build a community that is healthier, stronger, and more resilient!
What does it mean to Serve a Year as an AmeriCorps Member?
Much like the PeaceCorps, AmeriCorps members spend a service term at a community organization (like our own), helping to fill a gap in our services! Our members service term lasts one year (but members can do up to 3 service terms). Our Public Health AmeriCorps program has service opportunities in SC, CA, TX, NH and TN. While we can't speak for other programs, to us, "serving a year" means committing a year to giving back, getting things done, and gaining hands-on experience in the Public Health Field.
AmeriCorps members can choose to serve with either Signature Programs of Leeza Gibbons Memory Foundation, Leeza's Care Connection (LCC) and Helping U Grow Strong (HUGS).
Our Members gain:
Work experience and the development of highly sought job skills (initiative, interpersonal and intercultural communication, adaptability, collaboration, and accountability)

Networking for career placement at all levels of the organization served, with partner organizations and throughout the community. Organizations often hire members after their term of service because they know what they've invested in the member and what they will be receiving

Build value in yourself and the position you serve. Members gain hands-on experience in the Public Health field and build on their abilty to take intiative, manage tasks and embody professionalism.
SERVICE DATES: July 2023 - June 2024 preferred (start and end dates flexible, most positions can start as soon as possible); multiple years of service allowable
APPLICATION DEADLINE: Ongoing
HOW TO APPLY: Follow this guide on how to create an account at: https://americorps.gov/serve/americorps/americorps-nccc/join/guide#step1
Then find our service listings under Leeza Gibbons Memory Foundation and apply to the positions you are interested in. If you have questions, please contact our Program Assistant at victor@leezascareconnection.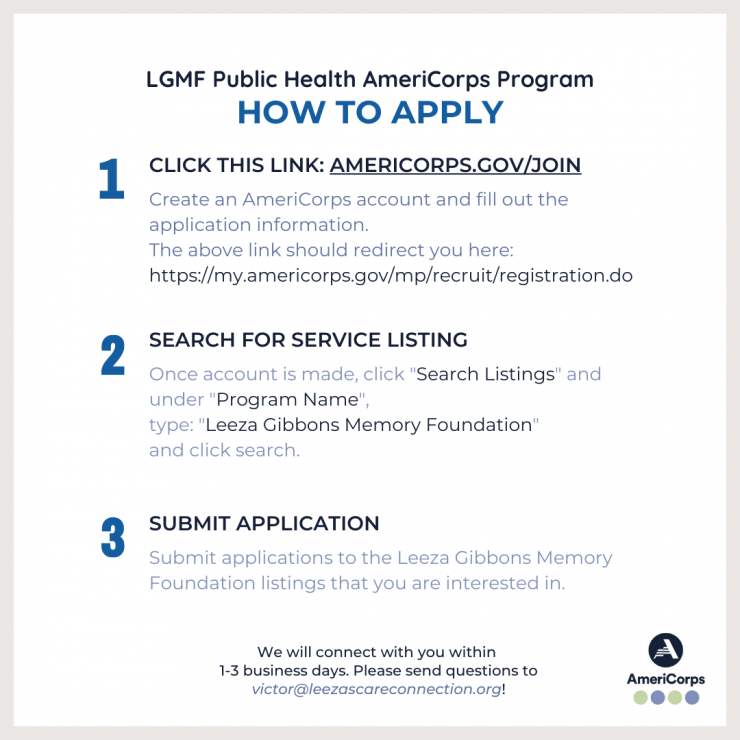 PROGRAM POSITION DESCRIPTIONS
OUTREACH COORDINATOR (SC, CA, TX) VOLUNTEER COORDINATOR (SC, CA, TX)
PROGRAM ASSISTANT (SC, CA, TX) HUGS COORDINATOR (SC, CA, TX, NH, TN)
Interested, but want to learn more? Register now for a one-on-one information meeting with our Program Director to ask questions and see if we're a good fit for you!
Please apply via desktop or laptop. Avoid applying via mobile.
REQUIREMENTS
Must be at least 18 years of age

Be a citizen, national, or lawful permanent resident alien of the United States

Must have a minimum of a High School diploma or GED/HSED

Must be willing to serve for up to12 months and complete the full term of service

Members must accept position as a full-time priority over other jobs and must complete 1700 hours of service which is about a 35 hour workweek, some weekends for events Members

must be able to pass a criminal, FBI, NSOPW Background Check If selected, must attend required orientations and trainings

Members cannot leave at any time during the training sessions
BENEFITS
$17,600 Stipend, paid bi-weekly payroll for term of service/AmeriCorps service gear provided

Holidays: New Years Day, MLK Day, Presidents Day, Memorial Day, Independence Day, Labor Day Thanksgiving Day, and the day after, Christmas Day, and vacation option

$6,495 education award upon successful completion of the term of service

Forbearance on qualified student loans and interest accrual payments while serving

Child Care assistance (if qualified) Mileage reimbursement (work related only)

Option to be reimbursed up to $200 per month for health insurance or $200 towards your housing costs