"Leeza's Care Connection is a huge support for me as I care for my husband with Parkinson's Disease and mild dementia. They provide encouragement and information to caregivers even when your loved one is in a facility. ​​​​​​​You don't have to be local to benefit from their services which are offered free of charge. When COVID began, they very quickly transitioned to virtual and have done a phenomenal job in the process! In fact, even though I'm local, I've been able to take advantage of more of their programs now since I can participate from home at my convenience."
~ Consuela, Care Partner to Husband
Virtual Support
Connection Matters!
Caring for someone you love is hard enough. The good news is that you are not alone. Our support groups are for families, partners and other caregivers for adults living with Alzheimer's or other chronic illnesses. It's a safe place to discuss the stresses, challenges, and rewards of providing care for a loved one.
No matter where you are, we're here for you. Welcome to our caregiving community!
Educational Workshops
Free virtual webinars!
Our educational programs help empower and equip caregivers with the tools and resources needed for a successful journey. From care strategies to self-care, there's something for everyone interested in aging well. Check out our virtual programs and register now!
You've got questions. We'll help you get answers. For FREE!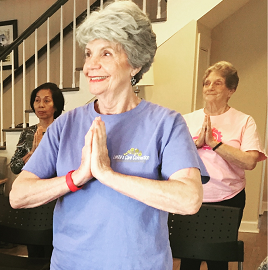 Wellness Activities
Become a warrior of Wellness!
Our wellness programs help current and former caregivers better manage stress through movement, socialization and creativity. From stretching classes like yoga and tai chi to socializing over craft projects, you'll learn ways to cope in an ever changing environment.
We believe strong minds and bodies are key to thriving through caregiving… let's have fun getting there! No skills or special equipment needed.
Upcoming Programs & Events
Art With Heart (in-person)
Dec 1, 2022, 10:00 AM – 11:00 AM
Connect with others and feel your stress melt away as you let your creative juices flow over coffee and crafts! This group meets in person only at our SC center located at 201 St. Andrews Rd, Columbia, SC 29210.
Email Cyndi to learn more:
resourcesc@leezascareconnection.org
Now what, NOW Me! (In-Person & Virtual)
Dec 1, 2022, 11:30 AM – 1:00 PM
To help you reinvent, rediscover and re-engage in your life, after or during your caregiving journey.
Meeting Time: 9:00 am PST / 12:00 pm EST (virtual & in person at SC location)
If joining in-person at our SC location, lunch will be served at 11:30p ET.
Courageous Heroes: Support Group for Spouses
Dec 1, 2022, 12:30 PM – 2:05 PM
This meeting is open to spouses that are living with and/or caring for a loved one with Alzheimer's or Dementia. A time to vent, share, learn and offer to others on a similar path. Group led by Liz Gregory and Audrey Amzalag.
Email info@leezascareconnection.org
or call 888-655-3392