"Leeza's Care Connection is a huge support for me as I care for my husband with Parkinson's Disease and mild dementia. They provide encouragement and information to caregivers even when your loved one is in a facility. ​​​​​​​You don't have to be local to benefit from their services which are offered free of charge. When COVID began, they very quickly transitioned to virtual and have done a phenomenal job in the process! In fact, even though I'm local, I've been able to take advantage of more of their programs now since I can participate from home at my convenience."
~ Consuela, Care Partner to Husband
Virtual Support
Connection Matters!
Caring for someone you love is hard enough. The good news is that you are not alone. Our support groups are for families, partners and other caregivers for adults living with Alzheimer's or other chronic illnesses. It's a safe place to discuss the stresses, challenges, and rewards of providing care for a loved one.
No matter where you are, we're here for you. Welcome to our caregiving community!
Educational Workshops
Free virtual webinars!
Our educational programs help empower and equip caregivers with the tools and resources needed for a successful journey. From care strategies to self-care, there's something for everyone interested in aging well. Check out our virtual programs and register now!
You've got questions. We'll help you get answers. For FREE!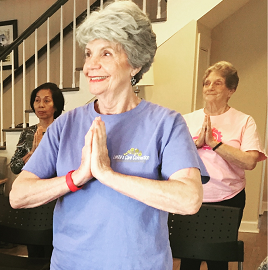 Wellness Activities
Become a warrior of Wellness!
Our wellness programs help current and former caregivers better manage stress through movement, socialization and creativity. From stretching classes like yoga and tai chi to socializing over craft projects, you'll learn ways to cope in an ever changing environment.
We believe strong minds and bodies are key to thriving through caregiving… let's have fun getting there! No skills or special equipment needed.
Upcoming Programs & Events
Caregiver Connection Support Group
Oct 5, 2022, 11:15 AM – 12:45 PM
This support group is open to people that are family members, living with and/or caring for a loved one with Alzheimer's or Dementia. A time to vent, share, learn and offer to others on a similar path. Group facilitated by Bernice Sanders.
Email info@leezascareconnection.org
Educational Presentation: "Brain Health & Wellness: Tips to Keep Your Brain Young" (in-person & virtual)
Oct 5, 2022, 1:00 PM – 2:00 PM
If you're worried about your memory or brain health, or you're concerned about someone you love, now there's a great new tool to help you. Alzheimer's disease is not an inevitable part of aging. In fact, 40% of the cases can be prevented by making simple brain healthy changes today.
Meeting Time: 10:00 am PST / 1:00 pm EST (virtual & in person at SC location)
If joining in-person at our SC location, lunch will be served at 12:30p ET.
Caring for a Parent with Alzheimer's or Dementia (EVENING GROUP)
Oct 5, 2022, 6:00 PM – 7:30 PM
Caring for your mom or dad can present very different challenges than caring for a spouse. Share experiences and ideas; support each other in navigating the care and support of a parent. The group facilitator is Bernice Sanders.
Email info@leezascareconnection.org
or call 888-655-3392