At Leeza's Care Connection, we are all about helping you learn ways to cope and manage your role as a family caregiver.
Think of us as a place for answers, a place to begin the process or to make it better. We are a supportive hug, a safe place to cry, a room for worry and a community of care. We understand that being a caregiver can be both a burden and a blessing, because we are a team of people who have been there. We can hold your hand and help you find answers on the difficult path you must walk NOW. We believe that you can be a warrior for your own health and your diagnosed loved one, through tips, tools and strategies for thriving.
Foundation Overview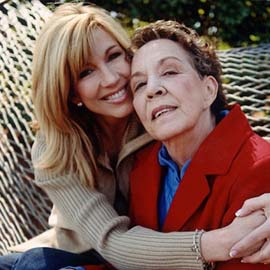 Leeza created The Leeza Gibbons Memory Foundation in 2002 as a promise to her mother Jean to "tell her story and make it count" after her mom's diagnosis of Alzheimer's disease. Leeza's Care Connection is our signature program offering what Leeza "wished we had when we were going through this journey". Jean Gibbons died in 2008 but her legacy of optimism through empowerment and education lives on.
Leeza's Care Connection is a place for caregivers to call on their courage when a health crisis hits their family. It is a place to go for support, to ask questions, find resources and connect with other caregivers. A place where caregivers learn the importance of holding onto yourself while caring for someone you love.
Our Centers Educate, Empower and Energize. We are an energetic community of people who stand together so no one has to walk this path alone. Caregivers develop new skills to help handle the changes and demands of their new life, allowing them to become stronger and more resilient, building a support network and family who understands both the burdens and blessings of caregiving.
Caregivers are the husbands and wives, sons and daughters, brothers and sisters, family and friends who are taking care of people they love. That can come at a high cost. Caregivers are often depressed, stressed and depleted which can lead to burnout…often causing stress related disorders that can take up to ten years off the life of the caregiver. We pledge to change that.
Leeza's Story
Emmy Award winner Leeza Gibbons is an instrumental advocate for healthcare, wellness, and caregiving. She is also a wife, mother, businesswoman and a New York Times bestselling author.
Leeza's career in TV and radio reporting and news media is diverse, ranging from her years of hosting Entertainment Tonight and Extra, to hosting and producing her award‐winning daytime talk show, Leeza. From the syndicated TV newsmagazine America Now to the PBS news shot, My Generation, Leeza is known for her interviewing skills and her ability to tell stories that people want to hear. As the current host of The Rose Parade, she continues to be a trusted source for our most cherished and important traditions. Recognized as a social entrepreneur, Leeza has become one of the leading voices for issues facing family caregivers. When her mother and grandmother were struggling with Alzheimer's disease, she created what she wished she and her family had and created the Leeza Gibbons Memory Foundation. Her compassion and business savvy united with her journalistic training when she opened the foundation's signature program, Leeza's Care Connection offering free services for family caregivers providing tips, tools and strategies for support in 2002. In 2016, she took her earnings as the winner of the tv show, Celebrity Apprentice, and used them to open Leeza's Care Connection in her hometown of Columbia , SC.
Over the years, Leeza has become known as a trusted girlfriend, valued confidante, and source of inspiration and information, empowering others to show up for their lives with strength, confidence and pride. Her books, Take Your Oxygen First, Take 2; Your Guide to Happy Endings and New Beginnings, and Fierce Optimism; 7 secrets for Playing Nice and Winning Big all underscore her philosophy of "work hard; care more".
Leeza lives a life of gratitude in Los Angeles with her husband, best-selling author Steven Fenton and their rescue pup, Biggie. She has three children… daughter, Leksy, and sons, Troy and Nate.
Leeza's Message
This is a hard time for everyone…and if you're caring for someone you love, it probably feels like it's almost impossible to figure out how to manage and cope. Now is a crucial time for you to practice self-care and to bolster your mental and physical health. Check this page for updates on resources that may help. If you need encouragement, support, or just a place to vent with someone who gets it, one of our team members may be able to help. Call us at 888-OK-LEEZA You're not alone. Connect with our community through our virtual support groups , or on Facebook, Instagram or Twitter.
We've got this. Keep the faith!
Life doesn't always go as planned. The people we love get sick and that is often when we face our biggest moment of truth. My family's journey with my Mom's Alzheimer's Disease allowed me to see how we were called upon to show up in our own lives and grow our courage in ways we never imagined. It's that way with everyone who faces a health crisis and wonders what they will do and how they will manage.
When our family was lost, frustrated and frightened while caring for my mom, I made a promise to my mom. I told her I would "tell her story and make it count." Since 2002, I have done that by offering our free programs to family caregivers at Leeza's Care Connection where I have learned that it takes great strength to know your limits.
We are a place to call home, a rejuvenating oasis, a place to find your sense of calm, where you can develop skills to help you remain grounded, steady and strong. We invite you to join us; to lock arms with your fellow warriors and your own strength of spirit as you take on one of the most meaningful and important roles of all – caregiving for the one you love.
Ever Forward,
Leeza
Our Promise
The Leeza Gibbons Memory Foundation is dedicated to connecting family caregivers with each other and with the information and support they need while they are walking the caregiving path. Our free caregiver resource centers, Leeza's Care Connection, provide a proactive, solution-based program that teaches the skills needed to tackle the demands of caregiving and an ever-changing life.
Breathe, Believe, Receive
Breathe in YOUR oxygen first, so you can stand steady and strong.
Believe you will get through this journey through faith, optimism and resilience.
Receive what others have to offer. Open up to help and teach others how to support you.
Today I will take a deep breath in as I move forward. I come to gain strength and to offer it. I know that I am on a path that I cannot walk alone, so I will find ways to connect and communicate my needs. I give myself permission to be vulnerable, recognizing that my fear is just courage looking for a way in. I know that even when I fall short of my hopes, I am enough, because I try and I care. When I am overwhelmed or frustrated, I will connect with the community of support that is my family of choice. There is wisdom in our connection, there is hope in our hearts, and there is strength in our togetherness. Today, I will exhale knowing I am not alone.
Our Philosophy
We believe:
We believe there is nothing inherently political or controversial about equality and basic human rights. Regardless of race, religion, ethnicity, gender expression, sexual orientation, physical appearance or ability, we are a community that will embrace you with love and support.
But intentions are not enough, we believe in action. It is our obligation to continually educate ourselves and our community on respect, inclusion, and the value of diversity. We pledge to listen and learn from those who can help us in our journey. Our learning is never finished.
We support:
We support those individuals and organizations who are actively working on the front lines to transform our culture for the better. We will amplify their messages, support their events, and add our voices to theirs. Silence is not an option.
We commit:
We commit to being a safe place for all people, especially those who have been historically disadvantaged: BIPOC (black, indigenous, people of color), LGBTQ+ (lesbian, gay, bisexual, transgender, questioning), individuals with visible and invisible disabilities, immigrants, and minority religious groups. We commit to racial and ethnic diversity in our hiring as well as bridging any disconnect between our organization and the diverse communities we intend to serve.