Our Vision
Our vision is to reset, elevate and amplify the caregiving conversation.
Our Mission
Our mission is to help family caregivers cope with Alzheimer's and other chronic illness through tips, strategies, and support.
Our Goal
Our goal is to make caregivers better, stronger and more resilient, creating better outcomes for the person being cared for and for the caregiver themselves.
Our Philosophy
We believe:
We believe there is nothing inherently political or controversial about equality and basic human rights. Regardless of race, religion, ethnicity, gender expression, physical appearance or ability, we are a community that will embrace you with love and support.
But intentions are not enough, we believe in action. It is our obligation to continually educate ourselves and our community on respect, inclusion, and the value of diversity. We pledge to listen and learn from those who can help us in our journey. Our learning is never finished.
We support:
We support those individuals and organizations who are actively working on the front lines to transform our culture for the better. We will amplify their messages, support their events, and add our voices to theirs. Silence is not an option.
We commit:
We commit to being a safe place for all people, especially those who have been historically disadvantaged, including : BIPOC (black, indigenous, people of color), LGBT+ (lesbian, gay, bisexual, transgender, and others), AAPI (Asian American and Pacific Islander), Latinx , individuals with disabilities, immigrants, and minority religious groups.
We commit to racial and ethnic diversity in our hiring as well as bridging any disconnect between our organization and the diverse communities we intend to serve.
LCC Mental Health Wellness Policy
At Leeza's Care Connection, we believe that as community leaders in healthcare and wellness, we have an obligation to engage in our own overall health as well as advocate for our guests. We recognize that to be optimally engaged in providing care for others, we must first provide care for ourselves. We are committed to prioritizing our own mental and physical health and will hold each other accountable for tending to these needs. So, in addition to providing support, education and empowerment to our guests, gaining more knowledge about the skills we need to be successful as service providers and fundraisers, we will also put our wellness on the agenda! Our weekly calls will now include ways in which we are each mitigating stress and encouraging wellness in our daily/weekly lives.
In Their Words
At Leeza's Care Connection, we are blessed to serve the most caring people on the planet. We thought you might like to hear what they think. We know you'll love them as much as we do!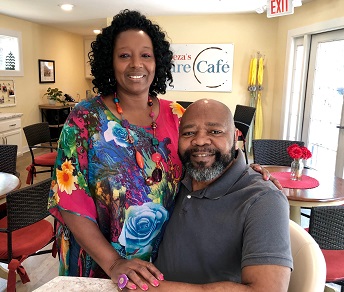 An outgoing pastor known as "Preacher Man", Danny is the father of four, grandpa to seven and husband of Shirleen, his primary care partner. When a Parkinson's diagnosis changed the course of their lives to derail Danny's dreams in the ministry, Shirleen juggled multiple jobs to help manage the extra financial strain. Lost, alone, and confused, Shirleen reached out to her community for help. Leeza's Care Connection is like "church" to her and "a place of healing. A place I won't be judged or criticized. I can talk freely about how I feel and everybody understands. It's such a release being here."
Shirleen & Danny, Care Partners

"Leeza's Care Connection is a very welcoming place for caregivers to come and get the support that they need, because they are so isolated as caregivers. When I read about a place that was just for caregivers, totally free, I felt that's the place for me. Because the caregivers in this day and age are just a forgotten group of people, giving up their lives, giving up their careers, giving up their family life, just to focus on taking care of their loved ones."
Britta, Former Caregiver and HUGS Ambassador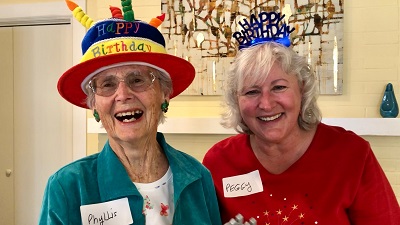 "When I heard that it was care for the caregiver, that just really intrigued me. There is a lot of support for the loved ones, but this was about educating and supporting me.

When I stopped in and talked with them, Marti and Kena just really touched me with their passion for what they were doing. It is a very welcoming place."
Peggy, Caregiver for her Mother
We asked Peggy, "what does Leeza's Care Connection mean to you?"